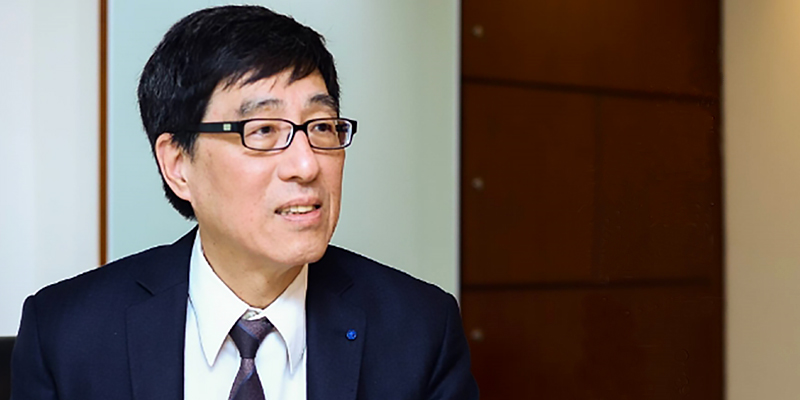 2016年9月27日世界衛生組織(WHO)發佈報告,指出全球92%的人口生活在低於空氣品質標準的環境裏。世衛指出,2012年全年有650萬人死於空污,其中300萬與室外空污有關,2/3發生在東南亞和西太平洋霧霾嚴重區域,其餘的大多發生在沙塵暴嚴重的非洲、中東。全球空污分佈標示見圖一,深紅色表示空污嚴重,淡紅色表示空污輕微。
能源短缺、疾病叢生
美國橡樹嶺國家實驗室(ORNL)空拍全球夜間電力使用分佈圖(見圖二)。電力充沛的地區呈白色,電力短缺的地區呈暗灰色;包括北極和人口稀少處,全無電力的地區則顯現一片漆黑。
當今70餘億世界人口中,約20多億人生活在根深蒂固的貧困之中,全無電力或幾無電力,卻遭世人疏忽。
比較這兩張似乎互不相關的全球地圖,除水力充沛與核電高比例地區以及沙漠與人口稀少地區外,空污分佈圖中代表污染的紅色標示大致與電力分佈圖中代表電力充沛的白色相吻合。換句話說,以石化燃料生產的電力,雖然照亮了黑暗,卻帶來致命的空污。
可悲的是電力缺乏而又空污嚴重的地區。全無電力或幾無電力的人無法享受潔淨的飲水、衛生的飲食、基礎教育或醫療服務,除了不得不忍受沙漠風塵的侵襲,還得被迫承受生活優裕的人所製造的空污。這20餘億人壽命不長 ─ 平均約 50 歲。
能源缺乏地區疾病叢生,除傳統的赤痢、瘧疾......等疾病外,還常爆發諸如愛滋、沙士(編按:SARS)、伊波拉、寨卡(台灣翻譯:茲卡)、 新型流感......等罕見疾病。同處全球一體大環境之下,這些病毒無遠弗屆,摧枯拉朽般傳播給製造空污的現代居民,沒有一個國家或地區可以幸免。
空污無國界,病毒傳播也無國界。大氣圍繞下的地球,沒有遺世獨立的自由。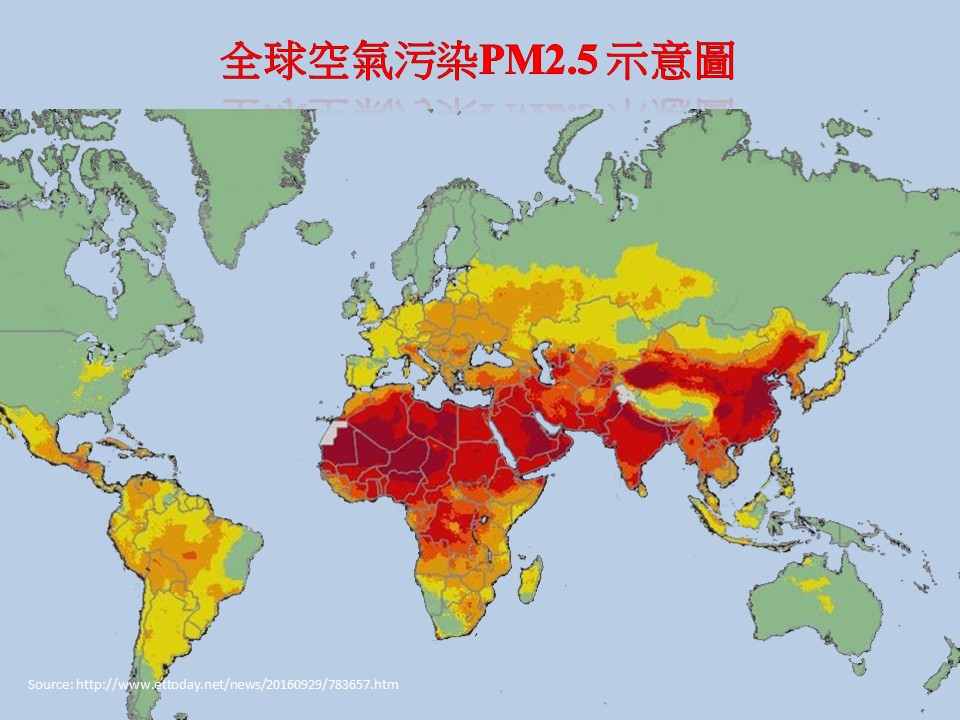 圖一:全球空氣污染PM2.5示意圖(WHO)
Illustration 1: Global view of PM2.5 air pollution(WHO)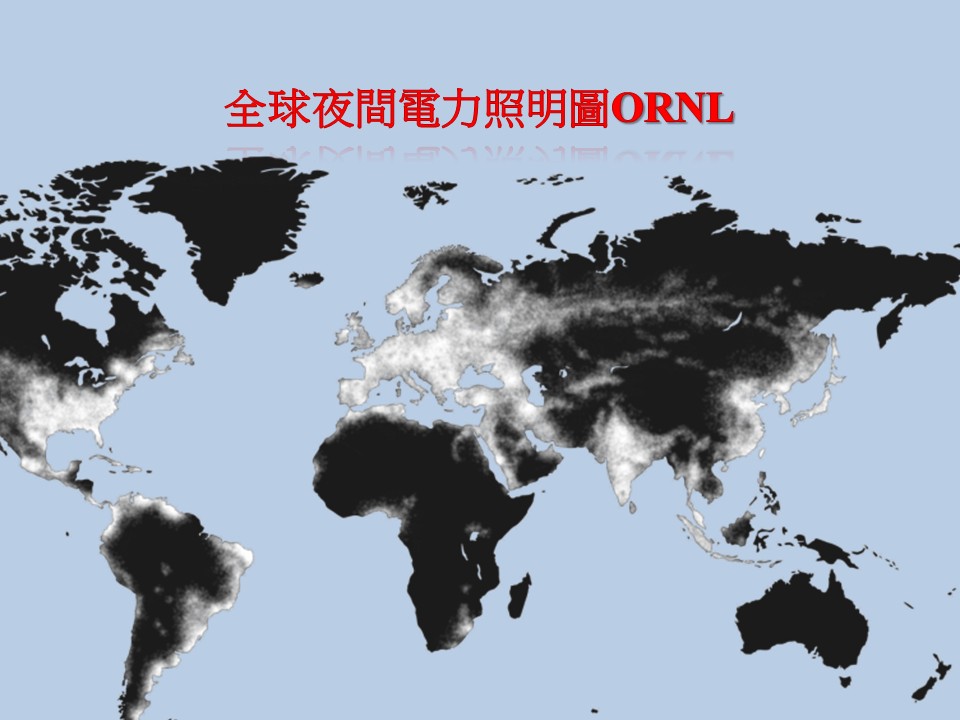 圖二:全球夜間電力照明圖(ORNL)
Illustration 2: Global view of the Earth at night (ORNL)
A few thoughts triggered by two illustrations
According to a WHO (World Health Organisation) report released on 27 September 2016, 92% of the world's population live in places where air pollution exceeds the recommended WHO limits. In 2012, the report pointed out that an estimated 6.5 million deaths were associated with air pollution, with some three millions deaths linked to exposure to outdoor air pollution.
Nearly two out of three of the deaths occurred in the heavily polluted Southeast Asia and Western Pacific regions, and the rest occurred mostly in Africa and the Middle East because of serious sand storms. Illustration 1 (by the WHO) shows the global distribution of air pollution, with the dark red area indicating heavy air pollution and the light red area representing light air pollution.
Lack of energy and yet plagued by diseases
The American Oak Ridge National Laboratory (ORNL) produced an aerial view of the Earth at night showing global electricity distribution (Illustration 2). The areas with abundant electricity are shown in white, while the areas with insufficient electricity supply are shown in grey. The North Pole and sparsely populated areas with little or no electricity are shown in black.
Of the 7.6 billion world population, about 2 billion still live in deep poverty with little or no electricity and are largely ignored by the rest of the world.
In comparing these two seemingly irrelevant illustrations of the world, we can see that with the exception of areas with abundant hydraulic or nuclear power, or deserts or other sparsely populated areas, the red pollution indicator in the air pollution distribution illustration dovetails with the white electricity abundance indicator in the electricity distribution illustration. In other words, while the power generated from fossil fuels may provide us with light, it also creates lethal air pollution.
What is particularly pitiful are the regions with limited electricity but heavy pollution. People living in areas with little or no electricity are unlikely to enjoy clean drinking water, hygienic food, basic education or medical service, yet they have to put up with the air pollution created by people who have an affluent lifestyle, in addition to suffering from polluting sand storms in many cases. These people, about 2 billion strong, have an average life span of only 50 years.
Areas with an insufficient supply of energy are often plagued by various diseases. In addition to common traditional diseases, like dysentery and malaria, they may suffer from outbreaks of relatively modern diseases, such as AIDS, SARS, Ebola or Zika, or new influenza strains. Since we all now live in the same globalised environment, these diseases can travel far and wide, affecting people in more advanced areas of the world who create most of the air pollution in a sweeping way. No country or region is spared.
Air pollution has no borders. The spread of viruses has no borders either. Since we are all encompassed by the same atmosphere, there is no exclusively independent freedom.
15 January, 2018
(原文刊載於2018年1月15日 President's Blog – The Way)